In a country not particularly known for its orderly queues, everywhere you look today, you are met by an unfamiliar sight: millions of residents standing quietly in long orderly files (often for hours) waiting to engage in a two minute activity.
History continues to be made in Egypt as today Egyptians in 9 provinces seek to participate in the nation's first full free elections ever. The remaining 18 provinces will vote in the next two phases on December 14 and January 3.
Cairo residents came out in such large numbers that officials extended voting until 9pm, after having already extended it for a second day tomorrow. Lines went as far as 2 kilometers at some voting stations. Women are reported to represent the majority of those standing in line to vote today.
Egyptians are calling them "Freedom Lines."
It is estimated that whopping 80% of today's voters are voting for the first time in their lives.
"I'm 56 years old and never voted before," said Ahmed Moustafa of Heliopolis. "Why would I vote before if I knew the results of the elections before hand, but today, it's another thing, I truly feel that this is my country. It's a great feeling."
The vote follows a dramatic week of confrontation between protesters on one hand and the military and police in another that included a 3 day fatal street battle outside the ministry of interior on the outskirts of Tahrir Square.
Since Egypt's youth revolution earlier this year, the nation has been through an emotional roller coaster of ups and downs as revolutionary groups push against the reluctance of the ruling military and the silent majority to usher in immediate and drastic changes.
Today's elections represent a key milestone in the move towards democracy and a much needed shift in the nation's mood from depression to a feeling of pride and hope.
This morning, I spoke to many family and friends and it seems that everyone I know, without exception, has gone out to vote – even those who formerly identified as of the "couch party" (or the silent majority).
As always with anything "Egyptian Revolution," Facebook and Twitter has been abuzz. "I am so happy, I can't stop smiling since the morning," Neveen El-Shamy wrote on her twitter feed.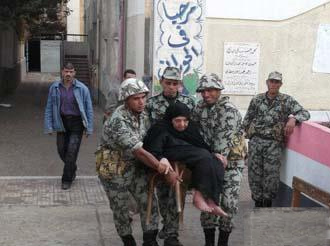 (Members of the Armed Forces stationed at an election station in the city of Dumyat assist an elderly woman who insisted on going out to vote
Sahar El-Nadi, a Tahrir square activist, took her whole family with her to their assigned voting station, she spent the three-hour wait interviewing fellow voters for her blog.
"Whatever the results of these elections, thanks to Tahrir for this dream come true," Sahar said.
That message was not lost upon <em>We are all Khaled Said</em>, the now world- famous Facebook page that was instrumental in mobilizing youth into the streets in the early days of the revolution.
"Had it not been for Tahrir Square, we could not have voted with our social security numbers (rather than hard-to-get voter registration cards) in an election that pits 100 candidates for a seat, all of whom believe they stand a winning chance, in a free and fair election.
"Had it not been for Tahrir Square, millions could never have gone out to vote without fearing government thugs intimidating them in the line, corrupt officials forging results, only for the official media to celebrate a day of great democracy under Mubarak.
Thank you Tahrir Square!"
Meanwhile Google Egypt celebrated the historic day with a Google doodle: